Front Range Hippotherapy is currently recruiting volunteers to help us with a variety of needs!
We'd love anyone who has an interest in horse handling, sidewalking & barn chores (cleaning stalls/pens, sweeping, cleaning tack room/feed room, changing water & feeding). For horse handling and sidewalking, we ask that you give us a commitment of 10 weeks, same day/ same time to provide consistency for the rider, the horse & our staff.
We'd also love anyone who has an interest in general ranch help or business help— i.e. mending fences, welding, construction, throwing hay/stacking hay, landscaping or anything from accounting, legal services, fundraising and billing.
OR… have a special skill that you think could help? Call us!
Who Are We and What Do We Do?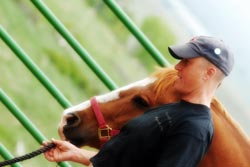 FRH is a non-profit facility that specializes in providing "hippotherapy" to individuals with special needs. Hippotherapy is physical therapy treatment that utilizes equine movement.
A typical 30-45 minute session with a client starts with tacking up the horse, then either handling (leading and giving commands) or sidewalking next to the client to ensure their safety. All 3 skills can easily be taught so that you will be an integral part of the session!
What Type of Volunteer Are We Looking For?
Someone with a positive attitude and outgoing personality is a must! Because we work with horses and mostly children with special needs, positive energy is important! We are here to motivate & inspire!
Preferably someone with horse experience, but if not, someone who is willing to learn!
Someone who isn't afraid of gettin' a little dirty! Maintaining a barn is hard work and requires us to be outside in all sorts of weather conditions…
What Sort of Time Commitment Are We Looking For?
Anything you can give! We feed the horses in the mornings and evenings, and barn chores can be done at any time/any day. We schedule classes with clients Monday through Friday (hours vary) for anyone interested in horse handling/ sidewalking.
Who Do I Contact If I'm Interested in Volunteering?
Whitney Benton:
303.823.2320 office (leave a message)
whitney@frontrangehippotherapy.org