About our hippotherapy horses at Front Range Hippotherapy near Denver, CO. Hippotherapy is often known as equine assisted therapy or horse riding therapy. This type of physical therapy benefits mentally and physically disabled individuals in many ways.
Read more about hippotherapy benefits here>>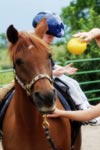 Bo Bay "Bo" This 26 year old Arab gelding took the National Halter Class Champion in 1990. Since that time, he has experienced life as an equine partner to both individual owners and barns as a schooling horse. He met Amy in 2005 and they began an ever-evolving therapeutic partnership, each learning from the other daily. Bo is steady, very responsive to his handler, and a favorite of many at FRH.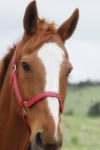 Cory is a 20 year old Thoroughbred. He came to FRH in spring of 2009 from the CU riding team program, where he served a number of riders from beginner to advanced. Cory is a lover of work. His age prevents him from the jumping circuit and the demands of the IEA (Interscholastic Equestrian Association), but he is a big fan of hippotherapy classes and is interested and curious about the clients who use him.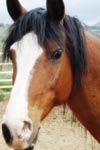 China is a 12 year old Arabian mare who came to us from a small riding academy in July 2006. She is sweet, sassy, and has been specially trained in Parelli natural horsemanship. She is a perfect partner for FRH in size and temperament. She is on a diet, so no treats, please!!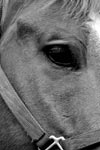 "Behold A Robin" aka "Robin" is an 8-year old registered gelding with APHA. He had a small stint as a cow-pony which instilled in him an incredibly driven work ethic. He loves to please, has a sweet temperament and really enjoys his clients.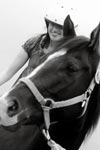 "Lil Missin Spot" aka "Missy" is a 6-year old registered breeding stock mare with APHA. She came to FRH with little experience as a 2 year old and is progressively working her way into the program. Missy loves human partners and is learning to RESPECT them through intensive training. Specifically, Missy went through Parelli training in September 2009 and continues to be incorporated into the program with appropriate clients.