October 2, 2009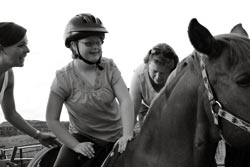 Down Syndrome is a genetic condition in which a person has 47 chromosomes instead of the usual 46. It is also known as trisomy-21
Children with Down syndrome may have difficulty with social skills as seen through impulsive behavior, poor judgment, short attention spans or slower learning.
These clients usually present with hypotonia (low muscle tone) throughout the trunk and extremities.
Prior to considering hippotherapy as a treatment strategy for your child, it is important that they have current cervical x-rays to ensure the atlantoaxial joint (or C1-C2) is not at risk for dislocation. Head and neck movement is a natural result of the three-dimensional movement of the horse's walk and it is critical that this joint has appropriate strength and stability prior to evaluation.
Hippotherapy is an effective tool when considering therapeutic interventions for kids or adults with Down Syndrome. The horse selection and environment can be a critical factor for helping to facilitate increased muscle tone, work on co-contraction at the trunk and pelvis, and help the client to use their bodies effectively while astride. Hippotherapy provides sensory stimulation to muscles and joints (proprioception), impacts balance and movement sense detected by sensory receptors in the inner ear (vestibular system), and provides variable tactile (touch) experiences through the horse's body heat, or when a client rubs, pats or hugs the horse, or feels the effects of the natural environment (sun/wind).
Clients are taught to relate appropriately to the horse with gentle rubs. Hitting and higher graded movements are discouraged, thereby assisting with a clients judgment and awareness of his/her body as it relates to others on the team—most importantly, the horse. The consequences of inappropriate behaviors are easy to implement. The horse stops. Good behavior is rewarded in a variety of ways. It may include short trots, fun games, or rewards after the session is over such as giving the horse a treat. Higher functioning clients learn how to engage their team in goal-directed conversations as they move through complex warm up exercises or how to perform advanced positions such as kneeling or standing on the horse. These activities develop memory, strength and coordination, instill self-confidence in the client and they are a lot of fun.
Clients engage differently in a treatment session while astride. They don;t have the typical "therapeutic" environment.
In our experience at FRH, clients with Down Syndrome experience their lives fully and completely. Their laughter and smiles are contagious…the team—members of our staff, the client and the horse, ultimately end up with a partnership that they can remember for a lifetime.
If your child has Down Syndrome, and you think this may be an effective treatment intervention, please don't hesitate to call Front Range Hippotherapy and talk to our staff about setting up an evaluation. We look forward to meeting you!